In case your kitchen has become very outdated and ugly, or you have bought a pre-loved house with a very worn-out kitchen, working in it will be an ordeal. In order to add quality to the time that you spend in your kitchen, it is advised that you improve its condition. That improvement will only come through renovation.
Renovations can be of varying degrees, from substantial renovations that include replacing the cabinets altogether, even incorporating a major change in the layout of the kitchen, to more basic ones where the walls, countertops, and cabinets are painted to present a better look.
What type of renovation is done depends on your budget, the present condition of the kitchen as well as the final look that you want to achieve. Here, we discuss a rather incremental improvement with basic kitchen renovation rather than a more abrupt one.
Basic Kitchen Renovation
A basic kitchen renovation would, broadly speaking, encompass re-painting the walls, countertops, and cabinets, improving on the existing lighting, and might even involve some change to the flooring. In other words, this is the type of renovation that would be the most economical for the homeowner.
However, being basic doesn't mean it will not yield the best results. Some impressive kitchen looks have been achieved from this type of renovation, based on the amazing artistic sense that the homeowner possesses. We now discuss how each and every element of the kitchen will be upgraded if we are to tread on the basic renovation path.
Kitchen Layout
When going for a basic kitchen redo, it is better not to change the layout of the kitchen as it will prove costly to do so. Changing the plumbing and electrical wiring can add complications to the project, and these complications will translate to higher costs.
However, items like the refrigerator, freezer, kitchen table, and chairs can be moved, given there are extra power outlets and space available for them.
Average Cost:
The cost for this renovation typically ranges from £11,500 to £17,100.
Kitchen Appliances
Since we are going for a basic kitchen remodel, it is recommended to keep costs at a bare minimum. Therefore, those appliances that are functional will not be replaced. Those being replaced will be substituted by plain models so that style matching isn't an issue. Also, no custom cabinetry or worktops will be made in this budget kitchen renovation.
Average Cost:
The cost of installing new appliances in your kitchen cannot be determined as the requirements vary from project to project. For example, an oven can cost you from £150 to £720, while an American style fridge freezer can range between £899-£7,7250
Cabinetry
To keep costs low, it is recommended that you don't replace your existing cabinets. Painting your cabinets might help breathe new life into them while keeping costs at a minimum.
Furthermore, replacing or adding new doorknobs and handles will be suitable low-cost uplifts to your cabinetry. In cases of damaged or faulty cabinets, only their doors will be changed, preferably. Functional cabinets will be kept.
LETS TALK ABOUT YOUR PROJECT TO GET THE BEST OFFER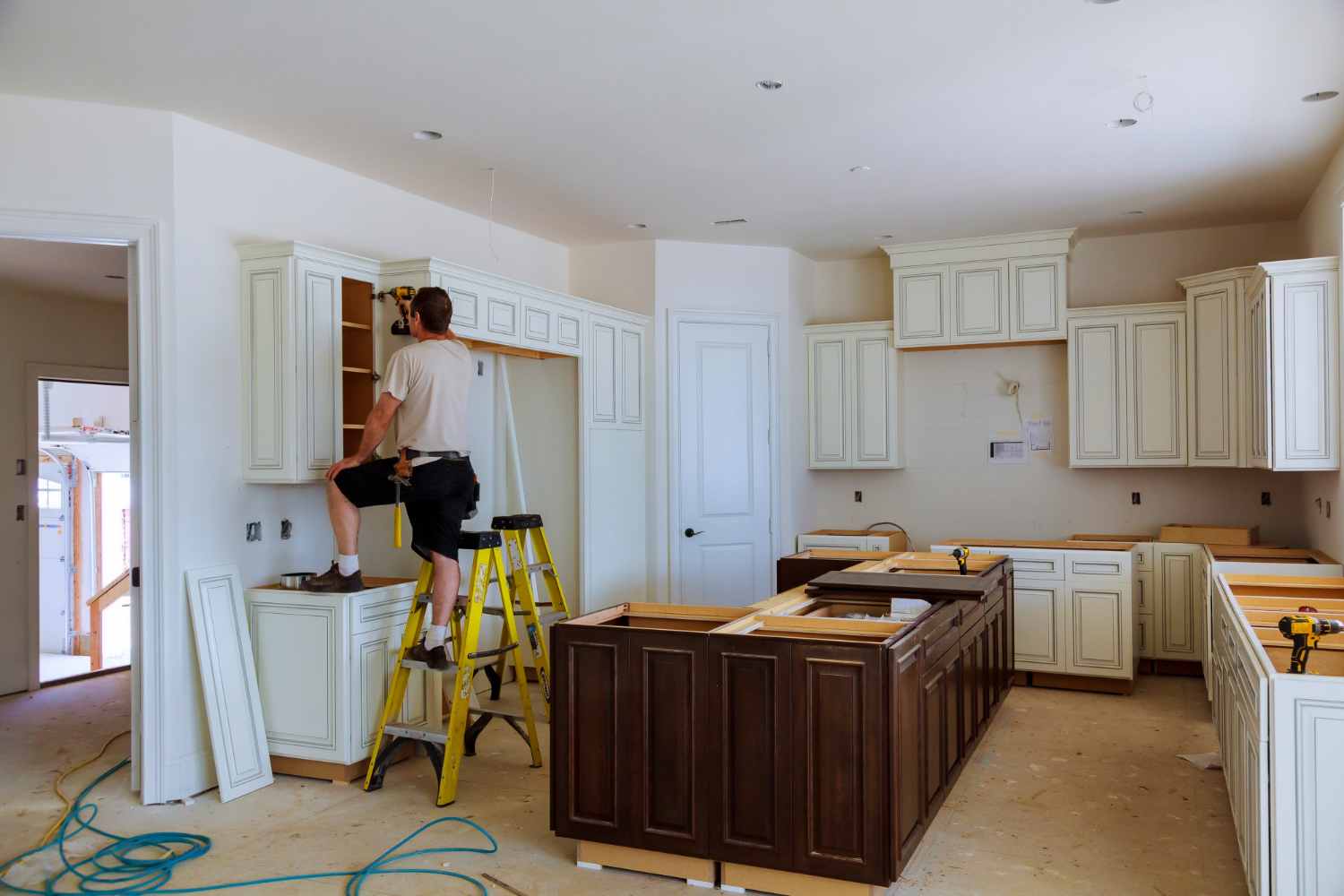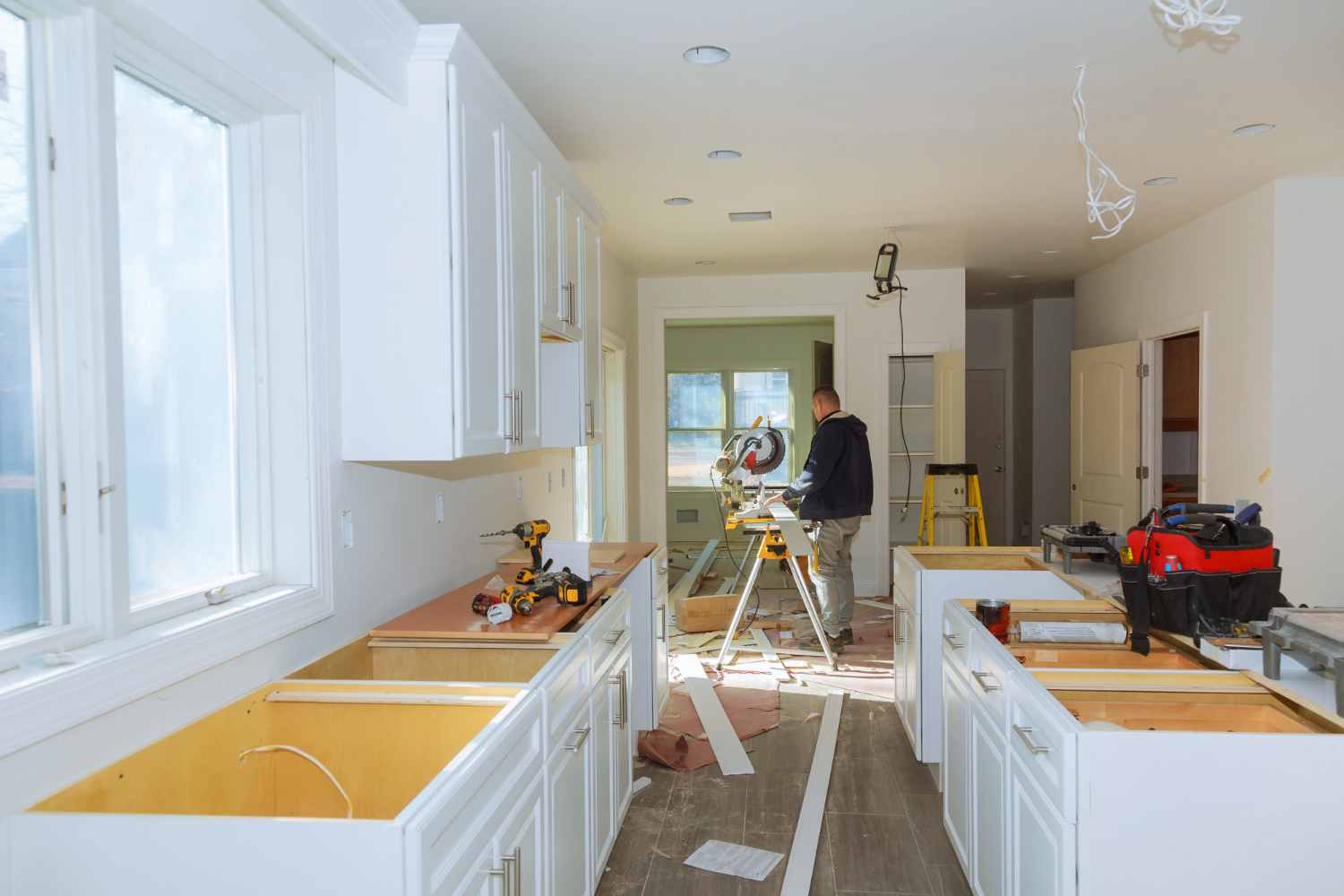 Average Cost:
The cost of cabinetry depends upon their size and material. For a small kitchen, 8 units can cost you almost £1000-£1,500. While for a high end kitchen, the cost may approach to £10,000.
Lighting
Before we get into the nitty-gritty, we will classify the types of lighting for your kitchen into two: natural and artificial lighting. Methods to improve natural lighting, such as adding doors and windows, will prove costly and, hence, barely an option.
Artificial lighting will be played with to improve the lighting of our kitchen. Different forms of ambient lighting can be added, such as recessed lights, halogen lights, and LEDs. Dimmable lights can also be installed to utilise their aesthetic appeal. The use of pendant light basically depends on your art style and the look that you want to achieve. Finally, task lights will prove useful while working.
Flooring
This might seem the least important since rarely does anyone pay much heed to the floor of the kitchen, but it actually carries great significance. The floor of a kitchen has a very high use case and, hence, has to be durable while looking great at the same time. If you already have good flooring in place, such as a ceramic tile floor, then it is good to go with minimal maintenance. However, if the floor is dated, with signs of wear, then it could also prove to be a hazard.
There are a handful of good options available if you want to redo your kitchen floor, and that too at reasonably good prices. Linoleum is a good option due to its anti-bacterial and hypoallergenic properties. Luxury Vinyl is another, which comes in a variety of colours and styles. If you are willing to raise your budget any higher, then the options of ceramic tiles and bamboo flooring are also available, with the bamboo giving a peculiar warm tone to the look of your kitchen.
Average Cost:
Average cost for flooring may range between £20 per m2 and £100 m2 depending on the material you select.
Kitchen Renovation Cost – An Outline
Now that you have decided how you will be improving the various elements of your kitchen, we can now discuss the costs that will be incurred during the duration of this project.
Ask your local kitchen fitter for an accurate estimate for the whole project.
We recommend onboarding a local kitchen fitter for this job as he will be charging less than what larger companies charge and might even be able to get you discounts on materials.
Factors Affecting Kitchen Renovation Cost
The kitchen refurbishment cost that you are going to incur depends upon several factors, such as:
The size of the kitchen
The level of uplift you want
The materials you want
The appliances you will install
Expected labour costs
Average Cost of Kitchen Renovation
Taking all the above factors into consideration, the average cost of kitchen renovation may be as follows:
The average cost of a small kitchen renovation is £11,000.
The average cost of a bigger kitchen renovation is £35,000.
For a better picture of what you will actually be paying, get in touch with a professional. He will assess your needs, desires, and requirements and give you an estimate accordingly.
Need to Renovate the Kitchen?
MCA Build is a building company based in Hampshire and provides building services to the same and East Sussex. We also provide refurbishment services and are perfectly able to upgrade the kitchens of our clients. Contact us to get a quote!